According to a tweet from Glassnode, the Ethereum network experienced two instances of over 60% of validators not performing their duties on May 11th and 12th.
It caused a loss in Finality, which refers to the state where a supermajority of validators attests to the final state of the blockchain. The blockchain ensures that no one can alter or remove a block and its processed transactions.
On May 11th and 12th, the #Ethereum network experienced two occasions where over 60% of the validators stopped performing their duties, causing a loss in Finality.

Finality refers to the state where a supermajority of validators (2/3 of the total stake) have attested to the… pic.twitter.com/H13rdYeFPP

— glassnode (@glassnode) May 14, 2023
With so many validators offline, the chain's performance was compromised. It caused 3.68% of daily slots to be missed and 253 blocks not proposed on time. However, this is still significantly lower than the 658 blocks missed during the Shapella upgrade.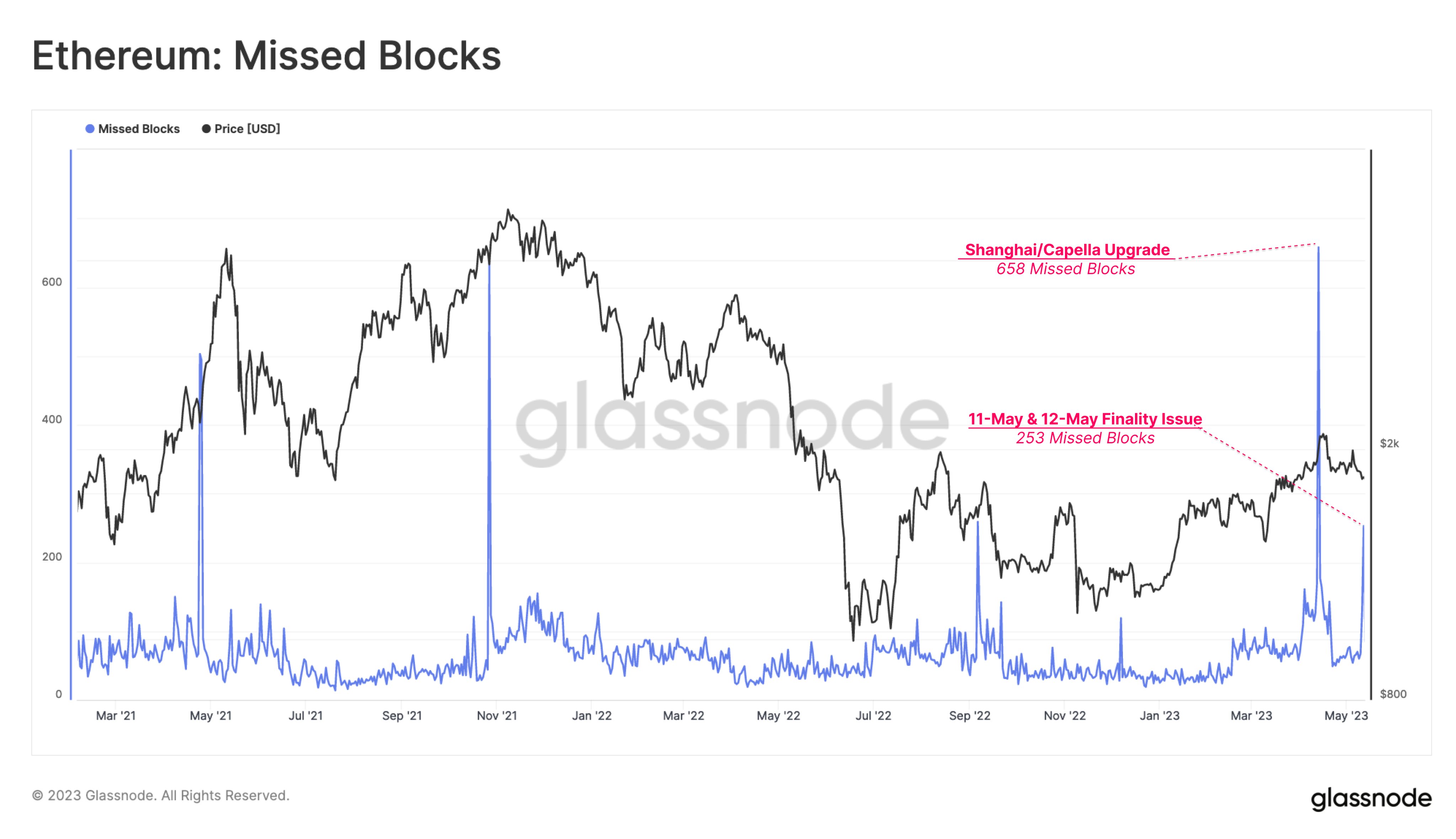 Some consensus layer clients encountered older attestations on a technical level, causing systems to overheat and malfunction. However, some clients did not experience this issue due to a different design approach. That allows them to continue processing transactions and producing blocks.
The affected validators returned online within 20 minutes and an hour, respectively, with participation rates increasing to over 98%. While these incidents did not affect end-users on the Ethereum mainnet, the second Finality stall resulted in the first-ever Inactivity Leak.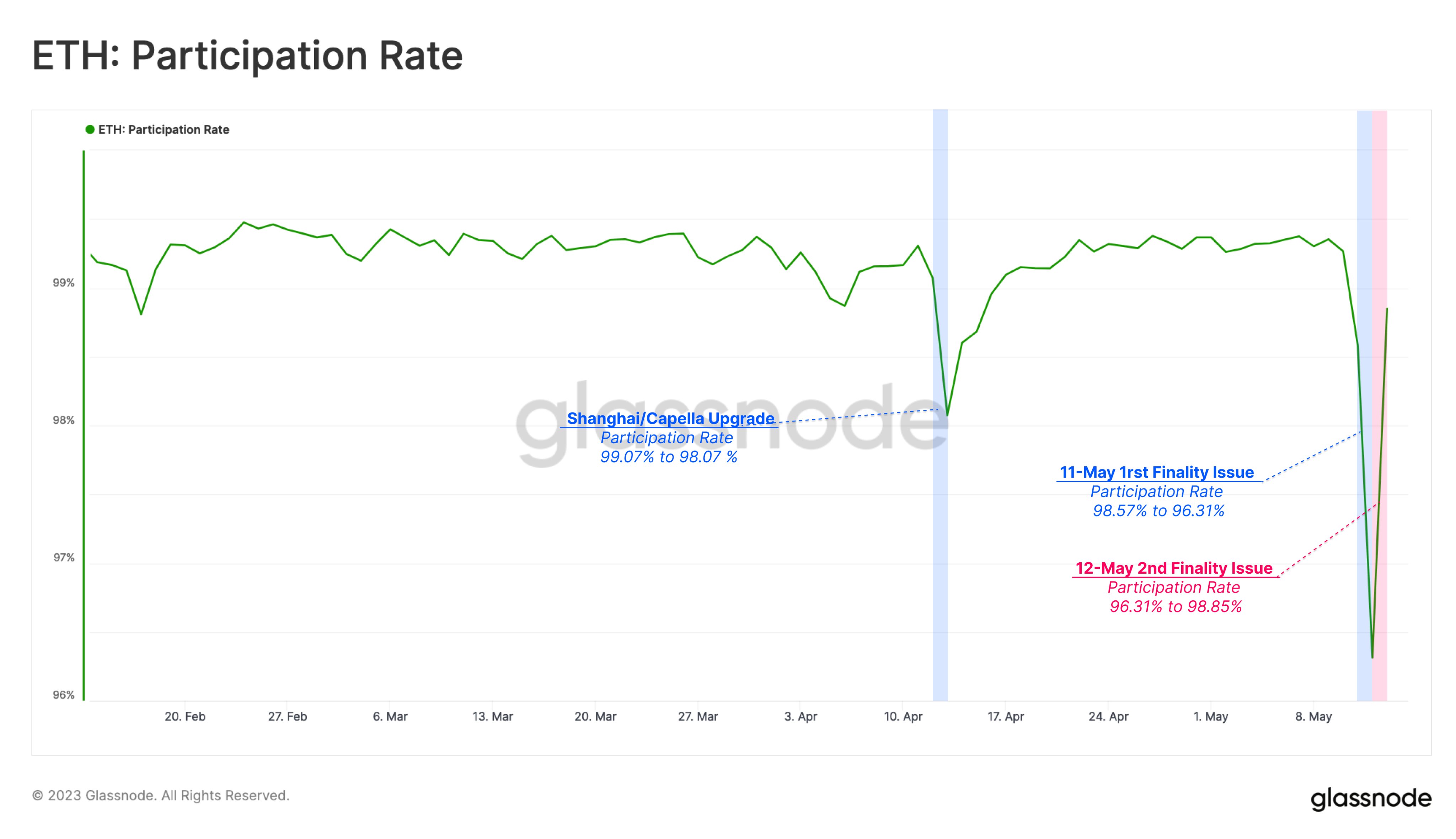 The Beacon Chain uses an emergency state called "Inactivity Leak" to recover Finality. The system increasingly penalizes inactive validators during this state until they start participating again.
The system effectively burns the amounts subtracted from the validators' beacon chain accounts during the Inactivity Leak. It results in less ETH issuance during that time.
Concerns About Ethereum Network Stability & Security
The cause behind the disruption remains uncertain, raising concerns regarding the security of the second-largest blockchain by market capitalization. The Ethereum Foundation explained that pending transactions might be reordered or dropped from the network when block finalization is halted.
Although block finalization had resumed at the time of reporting, this is the second instance of performance issues within 24 hours. These instances of instability could potentially undermine Ethereum's credibility in developers' eyes.
Toghrul Maharramov, a developer at Ethereum infrastructure startup Scroll, expressed some unease about the situation. But emphasized the need to understand the root cause before assigning blame to protocol design or bugs.
Superphiz.eth, a self-proclaimed Ethereum Beacon Chain community health consultant, clarified on Twitter that transaction activities were not directly affected by the finality issues experienced by Ethereum in recent days. He stated that the lack of Finality had "zero impact on-chain activity" following yesterday's hiccup.
However, some services built on Ethereum, including the multi-billion-dollar financial infrastructure and other applications, may need operational adjustments due to finality issues. DYdX, a prominent crypto exchange platform, temporarily halted deposits.
Superphiz.eth warned on Twitter that a third wave could potentially occur while the second wave of disruptions has passed. He advised network validators to upgrade their hardware specifications. If possible, switch to a minority client, and apply patches as they become available.
No transactions were halted. The network continued as expected. While the chain did not halt, this is more technical, finalization wasn't reached. Finalization is a novel concept in Ethereum that prevents chain re-orgs. This had zero impact on chain activity.

— superphiz.eth 🦇🔊🛡️ (@superphiz) May 12, 2023
Nevertheless, he reassured the community not to be overly concerned as the blockchain continues functioning and eventually achieves finalization.
These incidents serve as a reminder of the importance of network security and the need for a reliable and robust validator ecosystem. The Ethereum community must continue to take proactive measures to prevent future incidents and ensure the smooth operation of the network.
Related Reading | China's Blockchain Center To Train 500k Specialists