Bitcoin whales, those holding more than 1,000 BTC, have achieved a significant milestone, hitting a new yearly high in the amount of Bitcoin held, according to on-chain analytics startup IntoTheBlock.
The amount of Bitcoin held by addresses with over 1,000 BTC hit a new yearly high this week!

Following the collapse of Alameda and Genesis, the amount of Bitcoin held by these large holders plummeted. However, it has grown throughout 2023, reaching a total of 7.67M BTC this week pic.twitter.com/cjiCFfAMvU

— IntoTheBlock (@intotheblock) November 17, 2023
This development comes on the heels of a notable decline in the holdings of addresses linked to FTX-related entities such as Alameda Research and Genesis. The aftermath of this collapse saw a substantial drop in BTC holdings by addresses with over 1,000 BTC.
Despite challenges, these entities have demonstrated resilience and witnessed a steady increase in holdings. This week, their total reached 7.67 million BTC, valued at a staggering $275 billion. IntoTheBlock suggests that the size of these holdings underscores the growing demand among large Bitcoin institutions, positioning them strongly in the market.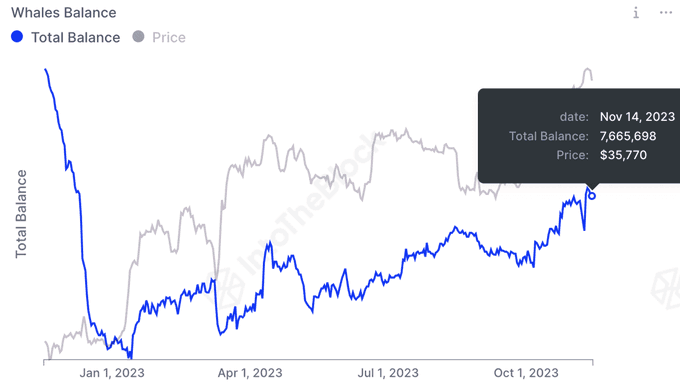 Additionally, the report notes that the amount of BTC held by long-term investors has reached fresh all-time highs, aligning with historical trends where addresses holding Bitcoin for over a year have been predictors of BTC cycle advancement.
Bitcoin Whales Surge: Institutional Confidence Soars
As Bitcoin's price experienced fluctuations, nearing $38,000 on Thursday before retracing slightly to $36,459 in the last 24 hours, IntoTheBlock highlighted insights from the futures market. The data indicates that U.S. entities might be pivotal drivers behind Bitcoin's ascent.
Deribit data further supports this, revealing a prevalence of bullish options bets on BTC, with expectations reaching $40,000 and even $45,000 by the end of December. The willingness of traders to sell call options at these levels suggests confidence in Bitcoin's potential to surpass these key milestones.
As the market keeps a close eye on Bitcoin's movements, the $40,000 level is identified as a crucial test point for the cryptocurrency's upward trajectory.
Related Reading | Crypto Giants Shift Investment Strategies Amidst Market Slowdown: Report