Rafael Schultze, founder and CTO at Glassnode, recently took to Twitter to discuss the significant surge in Bitcoin transactions. It shed light on the driving forces behind this increase. On-chain Bitcoin transactions have significantly increased, with a daily volume exceeding half a million and hitting a new milestone of 682,000 on May 1st.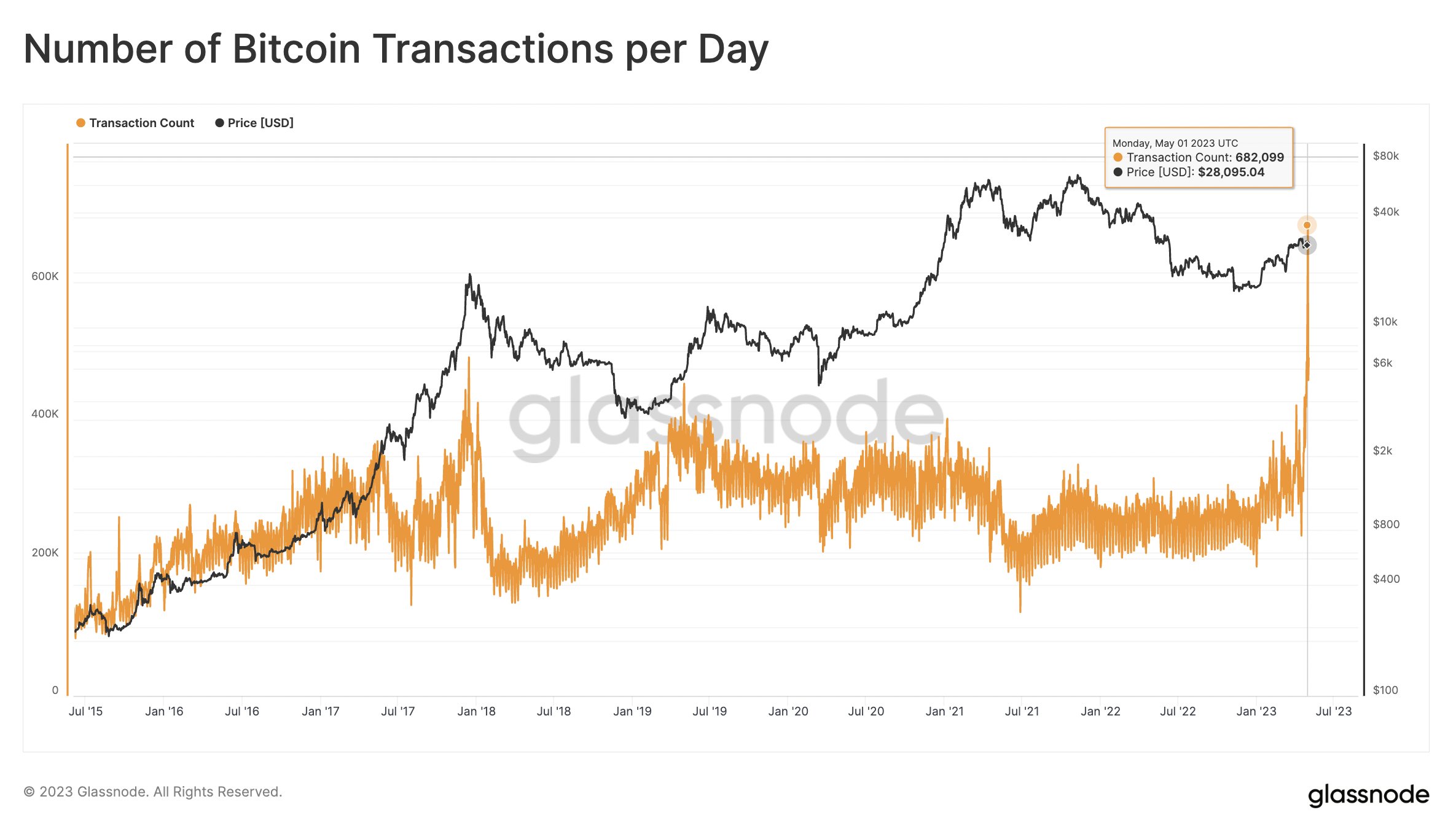 Comparing these figures to the baseline of 2022, transaction counts have more than doubled. Throughout last year, daily transactions remained relatively stable at around 250,000. The previous all-time high of 490,000 daily transactions dates back to the peak of the 2017 bull market.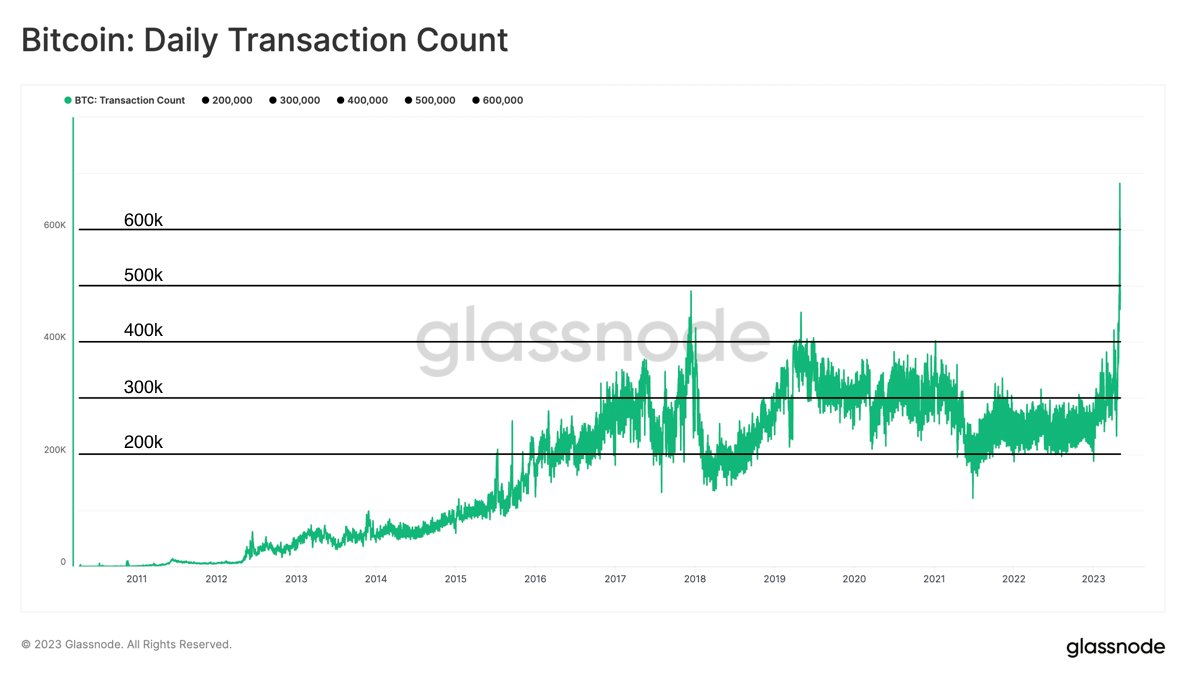 Taproot transactions have played a substantial role in the recent surge of Bitcoin activity. On April 30th, approximately 37.5% of spent outputs were of the P2TR output type. Taproot's adoption and utilization metrics confirm this upward trend, with a staggering 60% of all Bitcoin transactions using Taproot on May 1st—a new record.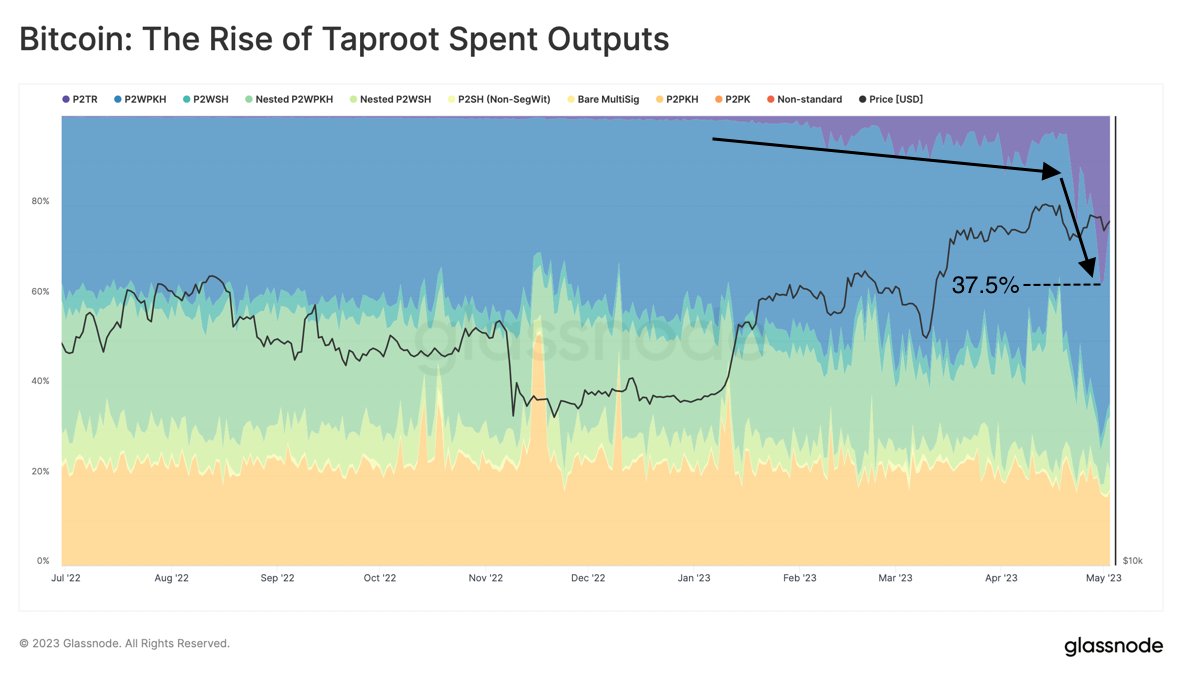 The increasing use of text inscriptions is responsible for the rise of Taproot transactions. Text inscriptions were associated with over 50% of all transactions on the Bitcoin network. In fact, text inscriptions have become the most prevalent ordinal inscription type, surpassing images, videos, audio, and other categories.
The JSON data ordinal inscriptions, related to the new BRC20 "token standard," use these inscriptions for deploying contracts and minting/transferring tokens.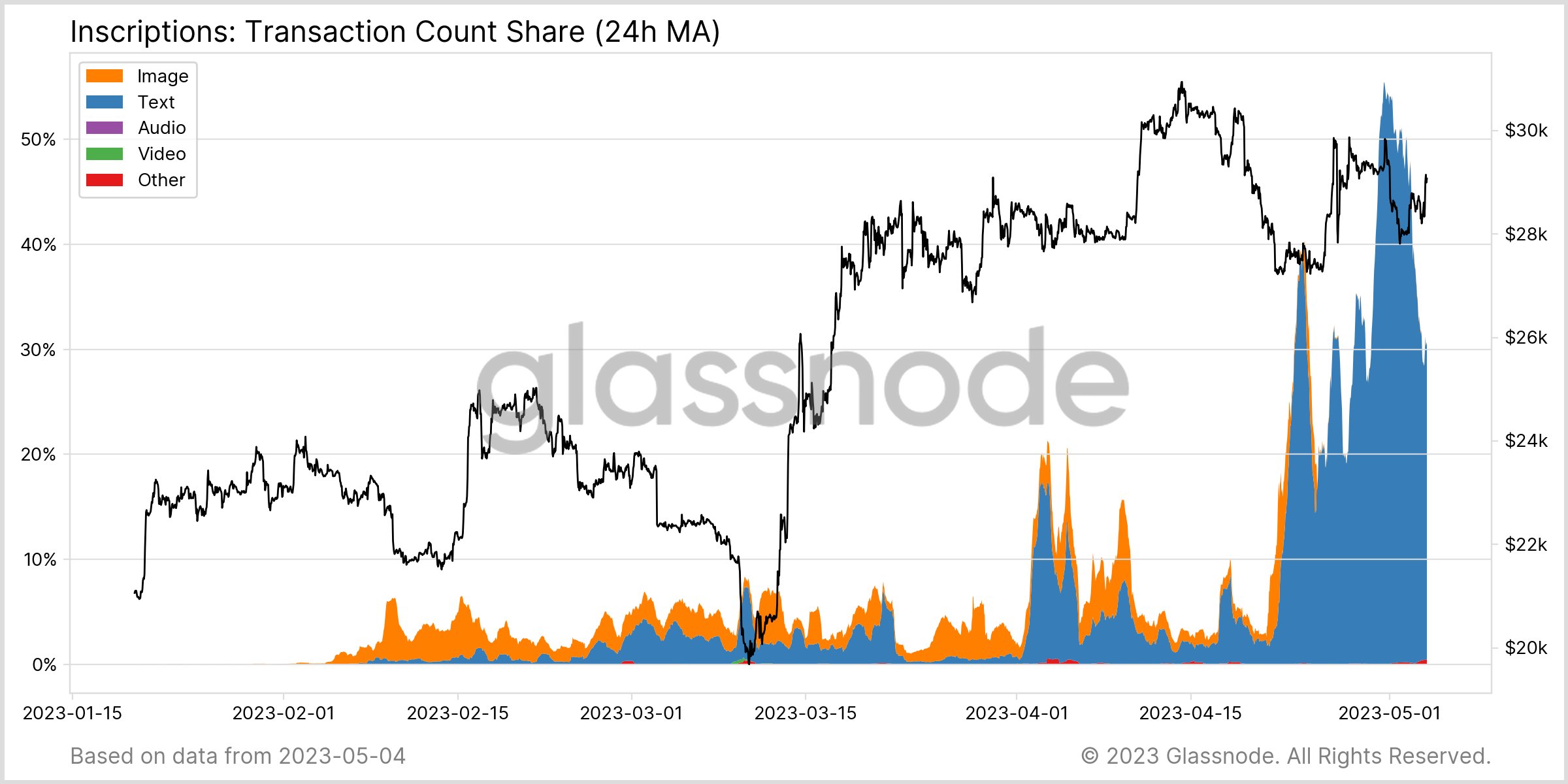 BRC20 inscriptions have significantly impacted the Bitcoin fee market, resulting in a whopping $3.5 million being paid in transaction fees to miners recently. This is the highest value in two years when Bitcoin was priced at $38,000. BRC20 transactions account for approximately one-third of all Bitcoin fees paid to miners recently.
New ORC-20 Token Standard Upgrades Bitcoin's BRC-20
Meanwhile, a new token standard called ORC-20 has been introduced to upgrade the popular BRC-20 coin issuance mechanism on the Bitcoin network. ORC-20 aims to enhance adaptability, scalability, and security while eliminating the risk of double spending. However, the launch of ORC-20 has sparked both praise and criticism within the cryptocurrency community.
ORC-20, an open standard for ordinal tokens, seeks to improve upon the limitations of BRC-20. Notably, it removes restrictions such as the four-letter limitation and fixed keys. This upgrade allows for more flexibility in token creation and management. However, critics argue that the complexity and centralization of the ORC-20 standard pose significant concerns.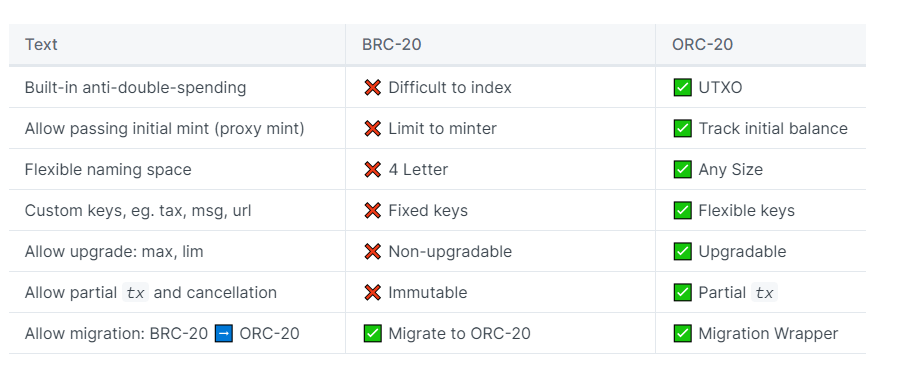 One prominent issue is that ORC-20 offers no distinct advantage over the existing ERC-20 token standard. Critics claim it merely adds to the growing trend of meme coins, which often lack inherent value or utility. Skepticism surrounding ORC-20's potential impact on the cryptocurrency market persists.
Users should approach ORC-20 cautiously despite its presentation of new possibilities for the Bitcoin network. As an experimental project, the value and utility of tokens created using the ORC-20 standard remain uncertain. Users must conduct thorough research and exercise due diligence before engaging with ORC-20.
In addition, the migration process from the BRC-20 standard to ORC-20 is only possible through deploying a wrapper ordinal by the BRC-20 deployer. This feature ensures a smooth transition for existing BRC-20 token holders.
The cryptocurrency community is exploring and adopting ORC-20, but it is yet to be see what its long-term impact and potential market implications will be.
Related Reading | Bitcoin Finds Stability Below $17,000 Amid Market Collapse